HydraFacial Specialist in Paramus, NJ
HydraFacial has many benefits as it helps in reducing signs of aging, fine lines, wrinkles, and gives your hydrated, plump and youthful skin. The results of HydraFacial are instant and gives you more radiant skin without any irritation. HydraFacial is offered at Elysium Aesthetics and Vein Care in Paramus, NJ. For more information, contact us today or schedule an appointment online. Visit our clinic conveniently located at 1 Sears Drive, Suite 406 Paramus, NJ 07652.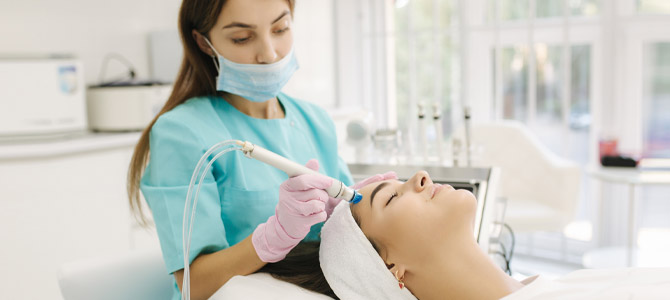 HydraFacial MD Treatments
Everyone wants clear, line-free skin as smooth as it was when they were children. Unfortunately, the signs of aging eventually take hold and make us look much older than we feel. But there's hope! HydraFacials can help rejuvenate the look and feel of your skin without invasive surgery and the downtime that goes with it.
There are plenty of HydraFacial options available depending on your unique needs and Elysium Aesthetics and Vein Care is here to help Paramus, New Jersey patients find the perfect one.
Signature HydraFacial MD (45 minutes)
The only non-invasive, non-irritating facial offering immediate results with NO downtime. HydraFacial MD is great for all skin types. Through the use of various serums, this facial cleanses, exfoliates, provides a gentle acid peel, and performs painless extractions, all while adding moisture back into your skin!
Deluxe HydraFacial MD Treatments
Elevate your Signature HydraFacial to the next level by tailoring your treatment to address your specific skin concerns. Begin with all of the essentials of the Signature HydraFacial and select a more thorough treatment to address all of your skin concerns.
Restorative HydraFacial MD (75 minutes)
This advanced version of the Signature is perfect for looking younger! The addition of unique growth factors helps the anti-aging process by improving skin tone, texture, and elasticity.
Clarifying HydraFacial MD (75 minutes)
Ideal for improving acne-prone skin, after a thorough cleansing, and extraction of the skin, your session is concluded with an LED blue light session that targets the bacterium that causes acne.
Radiance HydraFacial MD (75 minutes)
Your skin gives insight into your age. Keep people guessing by addressing those tell-tale signs such as age and sun spots. This custom facial uses a booster called Britenol® whose main job is to minimize the appearance of dark spots.
Platinum HydraFacial MD (90 minutes)
The ultimate HydraFacial experience. Begin your detoxification process with relaxing Lymphatic Drainage. This is followed by the Signature HydraFacial to deeply cleanse, extract, and hydrate the skin. Enhance the Signature HydraFacial with a booster of your choice to address your specific skin concerns (skin tone, minimize the appearance of dark spots, or reduce fine lines and wrinkles). Your session concludes with LED light therapy to further reduce the visible signs of aging.
How Much do HydraFacials Cost?
Everyone is different and the techniques used to help our patients reach their aesthetic goals vary from person to person. During your consultation, Dr. David Singh will analyze the quality of your skin and talk to you about your expected goals. He'll then develop a treatment plan based on your specific needs and goals. In this time, you will also discuss the cost of the HydraFacial and the financing options available to you.